Holiday Cottages and Unique Stays in the Lake District
The region boasts a wide array of quirky stays that promise an unforgettable experience. For those who fancy a quiet and relaxing retreat, there are cabins tucked away in secluded woodlands or by a river. These abodes not only immerse you in the stunning surrounding landscape but also the opportunity to reconnect with nature in a truly unique way.
The Lake District has a lovely selection of eco-friendly accommodation that leave a minimal ecological footprint, allowing you to enjoy the natural beauty of the region while preserving it for generations to come.
If you're more of a water enthusiast, consider booking a unusual holiday home on the shores of a Lake. These holiday cottages provide an intimate experience of the lake, allowing you to wake up to the soothing sounds of water lapping close to your temporary home. Why not choose to stay in a luxurious lakeside home complete with a private hot tub, where you can soak away your worries while gazing at the stars, the perfect way to relax.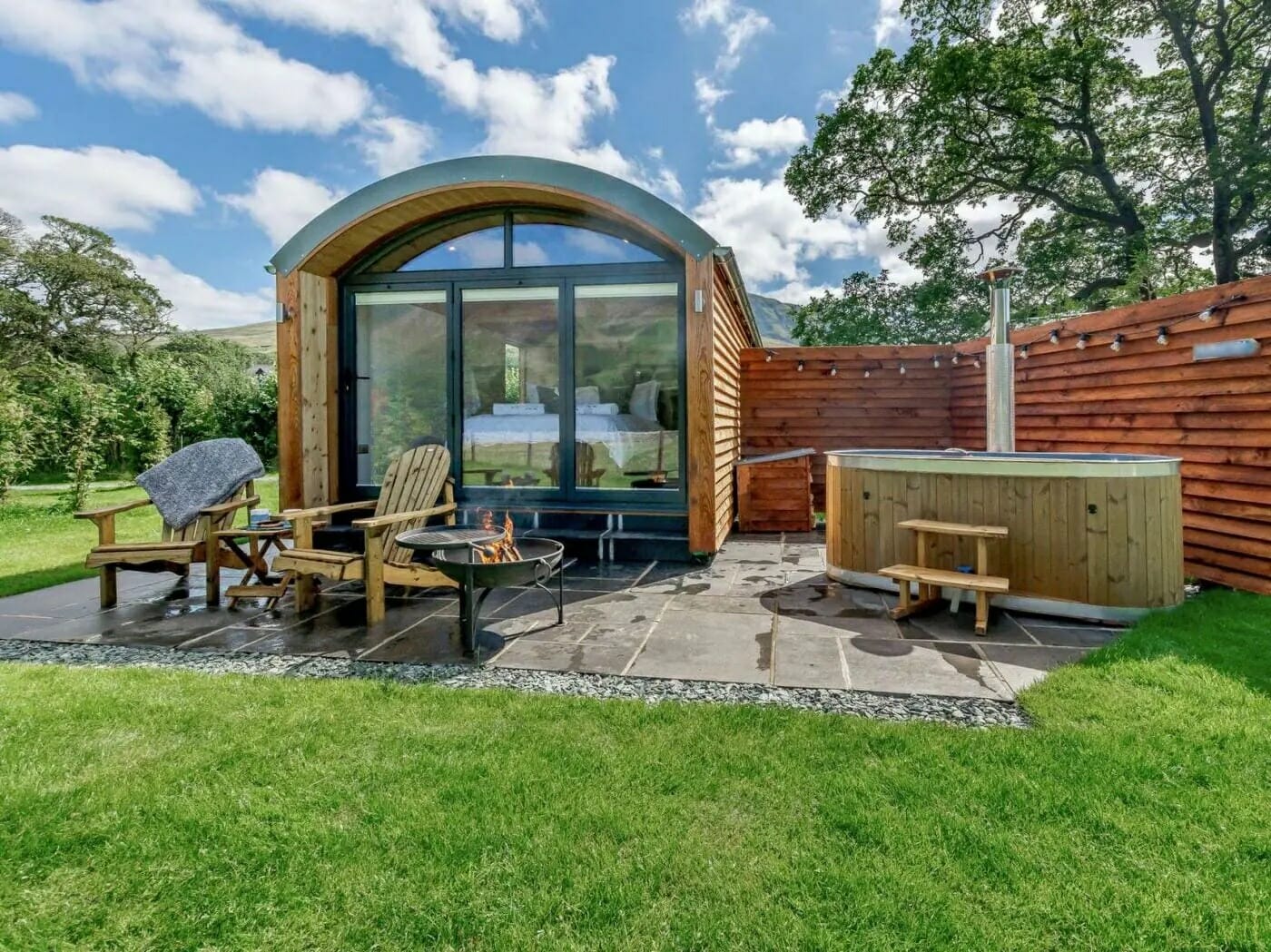 For history buffs and those with a penchant for traditional charm, there are many quirky holiday cottage stays available in the Lake District. Imagine spending a night in a centuries-old home complete with quirky character. Some of these old homes have been converted into cozy, characterful lodgings, combining the charm of the past with modern comforts.
Whether you're a nature lover, history enthusiast, or simply seeking a peaceful retreat, the Lake District has something for everyone.
Here's our latest quirky holiday cottages in the Lake District
If you're looking for a relaxing and enjoyable holiday, a quirky holiday cottage or home in the Lake District is the perfect choice. Here are a few of our newest places to stay from our Lake District quirky collection, just to get you started:
Netherby Hall, Cumbria • Bedrooms 2

Independent

Set within the stunning grounds of Netherby Hall, Independent Apartment is one of nine properties offering characterful and beautifully decorated accommodation. Aptly named, Independent Apartment benefits from a lift access to the first floor living accommodation with a second bedroom and wet room on the ground floor.

Netherby Hall, Cumbria • Bedrooms 1

Clock Tower

Clock Tower is a charming one bedroom apartment boasting modern, contemporary comforts such as a wood burning stove and a roll top bath. Situated within the grounds of Netherby Hall, where you can roam the 32 acres, watching the wildlife and taking in the peace and tranquillity of these beautiful surroundings.
Self-catering quirky holiday cottages in the Lake District
A break or holiday in the Lake District is more than just a vacation; it's an opportunity to embark on a one-of-a-kind adventure. The stunning natural scenery alone is reason enough to visit, but when combined with the chance to stay in unique holiday homes that match the grandeur of the surroundings, your Lake District experience becomes truly extraordinary.
The Lake District has something to offer every holiday maker. So, why settle for the ordinary when you can have a holiday with a twist in this spectacular UK destination?.
Pack your bags, and get ready to create lasting memories in the heart of Cumbria's captivating landscapes.
Here are some other articles and links that may help you plan your trip: